Gaming Headsets With Microphone

Hello everyone! Welcome back to my Computers and Electronics blog. From time to time I'd like to enjoy myself and play computer games. One of my favourite kind are shooters and survival games like Halo.
The best part is actually the multiplayer game mode, where you can meet players from all over the world. To chat and coordinate your team, over the past few years, voice chat has become more and more popular. But sometimes you have some sensitive room or house mates or, even worse, picky neighbours. The perfect way to enjoy your games, even during odd hours, are gaming headsets. And with the built-in microphone, voice chat has never been easier.
Headset vs. Speakers

Good headsets are often cheaper then speakers with the same sound quality. And the integration of a proper microphone is more popular than ever. The well known shopping website http://www.gebraucht-kaufen.de/gaming-headset sells a wide variety of gaming headsets and offers great deals and bargains on top brands such as Sennheiser.
According to recent surveys, more then 50 percent of the gamers prefer using a headset/microphone combination. But some gamers might object, that headsets don't provide a surround-sound like classic speakers (can) do. But actually, that is not true. Nowadays, besides the common stereo headsets, also surround-sound headsets are available. Instead of just one speaker per ear, they use multiple ones to emulate surround-sound. But even if you don't have such a fancy headset, you can also enjoy surround-sound with an ordinary stereo headset. All you need is a special sound-card like the Creative Soundblaster Z or the Sennheiser USB-Headset-amplifier GSX 1000.
USB vs . Audio Jack

Be aware that some of the newer headsets have their own, integrated sound-card and therefore are plugged into an USB port. But mostly this USB sound-chip is optional and you can take it off so you can still use the standard audio jack and use your sound-card.
And last but not least, generally there are two different kinds of headsets: open and closed. This term is used for the ear cups. Open cups mean that you are still able to perceive your surrounding environment. Furthermore the ventilation is much better, especially if you play a few hours in a row. Closed cups cut off most of the surrounding sounds and are therefore suitable for noisy environments. But in my opinion headsets with open cups provide an overall better sound quality.
My Recommendation

A very good headset for beginners or occasional gamers is the Creative Fatal 1ty. Lately I saw this gaming headset for sale at the great websites for classified adds http://www.gebraucht-kaufen.de/creative-fatal1ty. If you buy it in stores, it usually is about $50. But on the amazing shopping site I saw it for less then $40. That is a discount of about 20%.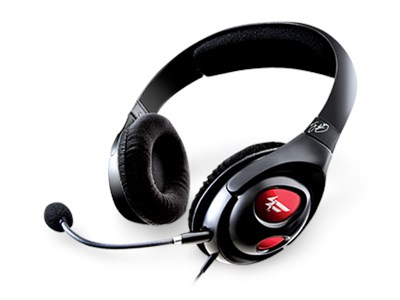 Besides Creative, I also highly recommend Sennheiser. They are a bit more expensive, but there products are top-notch and the sound quality is outstanding. To take a look at their models, check out their website https://en-us.sennheiser.com/pc-gaming-headset.
So I hope the above information will come in handy if you want to buy new gaming headset. And if you are looking for more accessories for you PC or you are simply looking for cheap home and consumer electronics, visit my favourite shopping website www.Gebraucht-Kaufen.de. Make sure you step by regularly so you don't miss any of the amazing offers!